Cellar Cooler installed at lakeside bar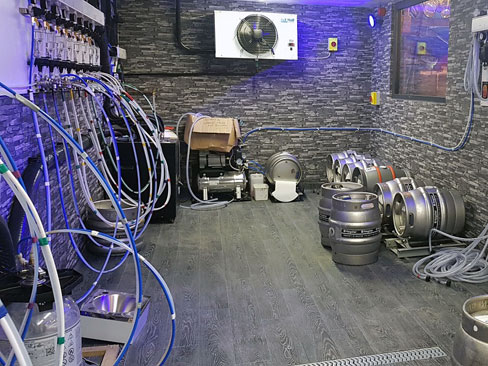 The Boaters Bar by Lake Windermere at Bowness in the Lake District is enjoying the benefits of a versatile, reliable and cost-effective J & E Hall cellar cooler.
The JCC cellar cooler was the number one choice for the popular cask ale and gin bar at the Windermere Marina Village.
ABC Direct of Great Harwood, Lancashire, was asked to complete a fast and efficient cellar cooler install over a weekend to meet the high pressure demands of opening the refurbished bar on time. The compact unit in the stylish, above ground cellar helps to ensure that a selection of up to six cask ales are kept in prime condition at temperatures between 10 to 12°C.
ABC Direct director and senior engineer Andy Sherrington said: "We've learned that finding a cellar cooling installer for many pubs and bars that will correctly size the cellar and specify the correct equipment can sometimes be difficult. We mainly specify J & E Hall cellar coolers as they are cost-effective, reliable and low noise. This is invaluable in a lot of smaller micropubs and bars we work in. Having a wide range of options from J & E Hall means that we never have to compromise by installing something too large or too small to get the best results. The J & E Hall after-sales service is great and their cellar coolers offer trouble-free installation. A JCC cellar cooler was the perfect choice for the Boaters Bar."